Type II Diabetic and Periodontal Disease
By: Debbie Bickford, RDH
The Challenge:
A Type II Diabetic patient, who has been a long term client, has uncontrolled periodontal disease and a history of not responding to previous periodontal treatment.
The Background:
Age: 73
Sex: F
Medical History: Type 2 Diabetes, Gout, HBP, Kidney Issues
Family History: None reported
Last Dental Exam: Sept 2017
Home Care: Pt has been on periodontal maintenance regimen
Chief Complaint: Bleeding, Poor Health, High Blood Sugars, Not feeling well
Other Notes: Nutritional - Pt states she is trying to control blood sugars but they have been out of control
Clinical Assessment: Poor health, Bleeding, Advanced Perio around #2, Unopposed 7-8 mm Pocketing
Periodontal Assessment: Advanced PD
Medical Assessment: Uncontrolled Diabetes
The Solution:
Date of Pre-MyPerioPath: 1/11/2018
Periodontal Therapy: Ext #2, 4 quads of RPS, Air flow polisher with glycine powder for biofilm reduction
Medical Therapy: Ongoing Medical treatment with primary physician
SABX Used: Metronidazole and Amoxicillin for 10 days as per MyPerioPath® results
Home Care: ProBiora Pro-oral probiotics, Immune tabs from Hyperbidtics, Sonicare toothbrush
Other Notes: Pt declined Perioscience product.
Date of MyPerioProgress® (post-therapy test): 4/17/2018 and 9/8/2018
Additional comments: Pt declined 3rd script of Metronidazole, Amoxicillin for now. Pt to continue with ProBiora Pro oral probiotics, Immune tabs and Sonicare usage as well as an improved diet and exercise routine. Patient has an appointment with her nephrologist soon and will consult on antibiotic usage. Pt will probably wait for 6 months for her next saliva test. Pt is very pleased with her results and how her general health has improved.
The Result:
At the 3 month evaluation including a MyPerioProgress® the patient had improved but periodontal concerns still remained. A second round of systemic antibiotic was administered based on the second MyPerioPath® results and a follow-up was scheduled. Following the second MyPerioProgress® - total of three MyPerioPath testsperformed 9 months after therapy, a 61% reduction of the total bacterial load was achieved. The patient is very pleased with her periodontal results and feels the zinc supplements have helped the blood sugar control. We have helped her achieve good periodontal health while helping her decrease health risks. Medically, the patient has seen great improvements. Her blood sugar is now 100-120 and she is working with her medical team to lower or eliminate some of her diabetic medicines. "The saliva testing has given us a great way to add science to the equations and give us quantitative results."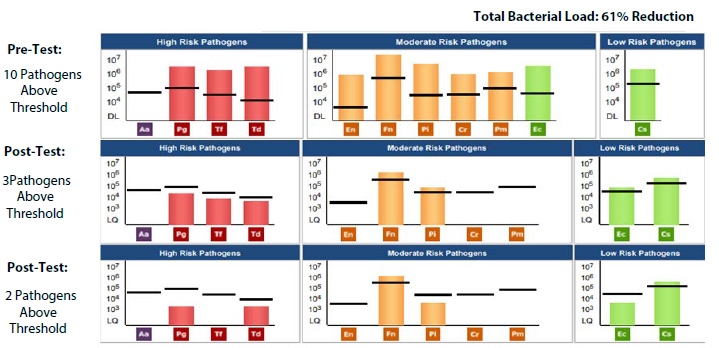 About the Author: