Class II Periodontitis and Mouth Breathing
By: Annie-Laurie Harris, BSDH, RDHMP
The Challenge:
To establish health through periodontal intervention per JP Institute protocols.
The Background:
Age: 25
Sex: Female
Medical History: Adderall controlled ADHD with panic disorder
Family History: Father: early CVD; Maternal grandmother: periodontal disease and high decay rate; Maternal grandfather: died in his 60's of fatal MI, hx of TIA's, oral cancer and lung cancer
Last Dental Exam: 03/02/2016
Chief Complaint: Gums hurt and bleed, bad breath, mouth breathing
Clinical Assessment: Referral to periodontist 3/2/2016. Diagnosed with Localized Aggressive Periodontitis. Recommended Treatment: Surgery with fair prognosis. Patient scheduled for surgery but canceled the appointment. Recommended third molars extracted, but never scheduled.
Periodontal Assessment: Generalized 4-5mm pockets with bleeding, localized 6-9mm pockets, radiographic bone loss.
The Solution:
Date of Pre MyPerioPath®: 04/20/2017
Periodontal Therapy: 6-8 one hour Periodontal Therapy Visits, Micro-ultrasonic technology, Oral Irrigation, Extraction of partially erupted 3rd molars.
Systemic Antibiotic Use: Metronidazole 500 mg bid for 8-10 days
Home Care Instruction: Sonicare' Toothbrush & Sonicare ' Airflosser, StellaLife Rinse, gel and spray, LifePak Nano
Date of MyPerioProgress® (post-therapy test): 08/30/2017
Additional Comments: The post therapy test was ordered as an Alert 2. Nutritional Counseling was also administered.
The Result:
By incorporating OralDNA salivary tests, the pre-test MyPerioPath®, and integrating The JP Institute methods of communication, my patient was able to own her disease. The pre MyPerioPath® confirms a bacterial cause and the post MyPerioPath® gives an objective measurement of bacteria reduction. The MyPerioID® portion of the Alert 2™ being G/G, or High risk, helps to establish the need for more comprehensive non-surgical therapy and frequent re-care as well as forewarns the patient of possible relapse.
I was confident the periodontal therapy was going to result in a healthy tissue response, which is apparent from the below photo. The patient and I were pleasantly surprised with the overall health benefits including improved energy, better breathing- as her sinuses cleared resulting in secession of mouth breathing, and her mood stabilized resulting in discontinuation of Adderall.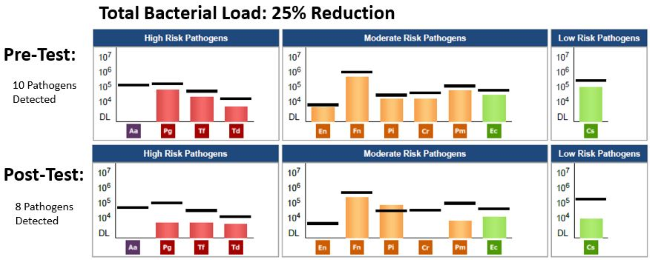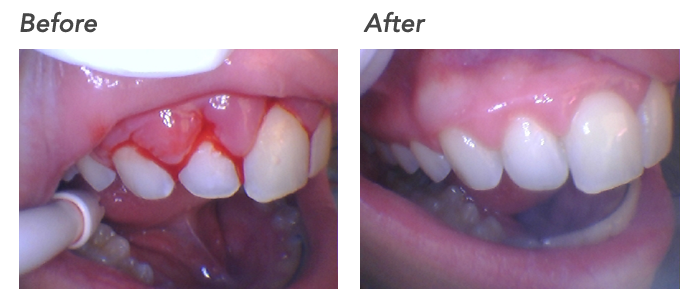 About the Author: