Periodontal Disease & Pregnancy
By: Carmeliza Dela Paz, DDS
The Challenge:
The patient is expressing oral inflammation and is pregnant. The clinical signs of periodontal disease due to pathogenic bacteria look identical to the clinical signs produced by pregnancy hormones.
The Background:
Age: 34
Sex: Female
Medical History: 21 weeks pregnant, no history of tobacco use
Home Care: Brushing 2 x day and occasional flossing
Clinical Assessment: Moderate bleeding on probing
Periodontal Assessment: Generalized 3-4 mm probe depths with marginal inflammation
Additional Comments: Increase recall during pregnancy
The Solution:
Date of Pre MyPerioPath®: 6/14/2018
Periodontal Therapy: Sub & supra debridement, irrigation with chlorhexidine & periodontal laser (Sirolaser) on 6/14/2018
Systemic Antibiotic Use: Metronidazole 500 mg bid for 8-10 days was prescribed on 6/19/2018 due to evidence that Fn can complicate pregnancies
Home Care Instruction: Increase brushing & flossing instruction
Date of MyPerioProgress® (post-therapy test): 10/31/2018
The Result:
The patient, still pregnant, returned on 9/26/2018 for adult prophylaxis. The clinical improvements included generalized knife-edge margins with localized light bleeding on scaling. The patient reported that she had started to floss daily and brush 2 x day. When asked about taking the systemic antibiotic, the patient stated that she did not take the Metronidazole as she was apprehensive due to pregnancy.
A post MyPerioPath®, aka MyPerioProgress®, was collected post-partum 10/31/2018. The results revealed a dramatic reduction of pathogen load by 43% with Td below the limit of quantification, Tf reduced by 1 log, and Fn reduced by 2 logs. It was decided to wait and secure the specimen post-partum because I wanted to see the change in pathogen load after delivery.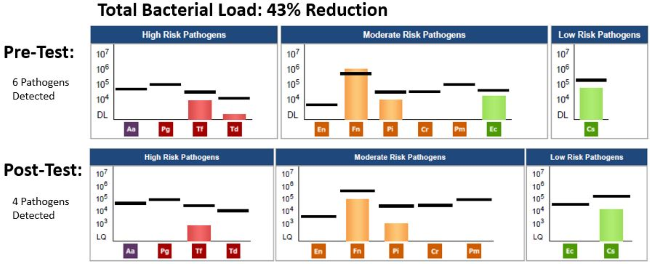 About the Author: