Why Test with OralDNA®?
Find hidden oral pathogens that threaten your oral and systemic health. Common pathogens directly cause gum disease and may increase the risk of cardiovascular disease, diabetes, stroke and birth complications
Learn if you were born with gene markers associated with increased inflammation, a critical factor in the severity of periodontal, diabetes and cardiovascular disease
Help your dentist select the most effective treatment if you already have periodontal disease, and then measure results with a follow-up test
Learn if you have HPV high-risk types associated with oral cancer
---
Now Introducing OraRisk® Caries!
OralDNA® Labs now offers a simple screening test that allows you to identify a patient's bacterial risk for dental caries!
This test can alert you to a developing risk BEFORE cavities develop and cause permanent damage to teeth. Read More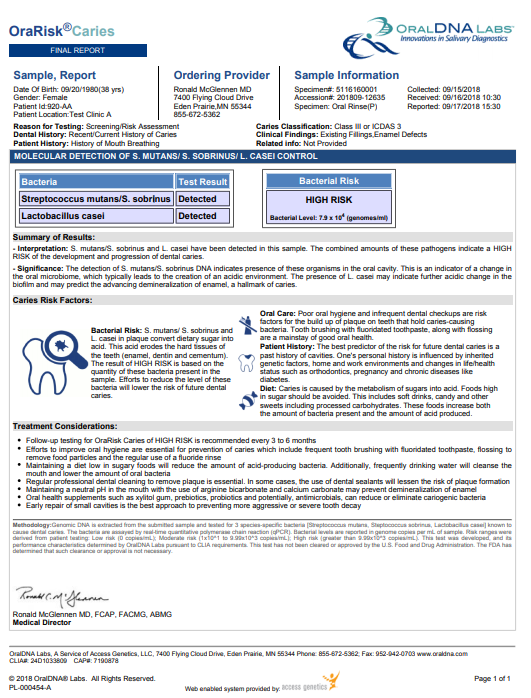 ---
Protocol Directory Now Available!
Have you ever wondered how to incorporate OralDNA® testing into your practice?
Now you can learn how other OralDNA® providers utilize salivary diagnostics through our NEW Protocol Directory! Review protocols to determine how OralDNA® salivary testing diagnostics best fits into your practice! Read More
---

Pacific Dental Services (PDS®) Supported Offices to Offer OralDNA® Testing to Improve Oral and Systemic Health
Over 594 PDS®-supported dental offices now have a powerful new tool to help with gum disease. A simple saline-rinse test from OralDNA® Labs measures disease-causing bacteria and helps personalize treatment. An extensive evaluation by PDS® supported clinicians concluded that the use of OralDNA® testing improves oral health outcomes and allows patients to make more informed choices on both professional and at-home care. Read More
---
Featured Videos