Periodontal disease affects over half of the population and expresses itself differently in different people. It is a highly personalized disease. It is initiated by bacteria, yeast, and viruses that live in a layer on the teeth we refer to as biofilm. It is this biofilm that stimulates a unique host response.
INDIVIDUAL HOST RESPONSE
Each individual's host response is dictated by combining their genetics with their acquired risk factors. Acquired risk factors are things that they can control in their lives like smoking, sleep, nutrition, hydration, stress, etc. It is important to understand that even in light of a highly responsive host – the disease requires biofilm to activate.
METRICS MATTER
Considering this, it is getting clearer and clearer that controlling oral biofilm and doing what we can to modulate the host immuno-inflammatory response is the goal of the dentist when treating this disease.
Using metrics (OralDNA® MyPerioPath®, OraRisk® Candida, and Celsus One™ or Alert 2™) to confirm the effect that your efforts, and your patients efforts, have on the biofilm is critical when evaluating clinical success. Collecting this data is a cornerstone of my Total Mouth Disinfection protocol we use in our clinic and help implement for other dental teams around the world.
PATHOGENS AND SYSTEMIC DISEASES
Using microbial metrics is also critical when working with physicians that manage vascular disease considering the recent information that High Risk pathogens have a significant effect on changes to vascular biology. We now know that these changes actually assist in the causation of heart disease, and implicated in other inflammatory based diseases such as Alzheimer's.
PERSONALIZED PERIODONTAL TREATMENT
Since there is no one way to consistently manage the biofilm for everyone, the OralDNA® tests can provide the data on how your clinical team did disinfecting the patient and how the patient is doing with their home care. Testing and retesting provides invaluable feedback in creating a personalized treatment plan, follow up assessment and maintenance protocol.
LONG TERM STABILITY IS ACHEIVABLE – CONFIRMED WITH MEASURABLES
I have used OralDNA® testing for nearly ten years to guide our clinical periodontal program and make adjustments according to this vital information on the patient's specific pathogen results. Having the history of OralDNA® reports in the patient's chart creates a visual of a series of MyPerioPath® tests on a patient. It demonstrates the initial pathogen profile and subsequent pathogen profiles taken yearly as we, and they, work to keep the disease stable – verified by the pathogen reports.
Just one example of the power of these metrics – we have a patient in our clinical practice going back more than 9 years- show bacterial levels that have never returned to the original active disease levels.
The patient also has been free of large concentrations of the high-risk pathogens that are implicated in so many other diseases.
We are happy to provide this service for our patients and enjoy being able to reassure them that they have no oral conditions that negatively affect their systemic health. Initial testing and follow up testing not only provide the metrics to plan and evaluate treatment but also builds credibility and value into your services. It is much more powerful when you have measurables to prove it!
You can learn more about how OralDNA® testing facilitates successful disinfection protocols and encourages total body health by visiting the Wellness Dentistry Network on the OralDNA® Protocol Directory.  https://www.oraldna.com/practiceProtocols.html
Douglas G. Thompson, "Verifiable Outcomes Using Salivary Diagnostics in Periodontal Medicine: Test and retest for clinical success" Inside Dentistry, December 2012 , Volume 8, Issue 12
Nabors TW1, McGlennen RC, Thompson D. "Salivary Testing for Periodontal Disease Diagnosis and Treatment" Dentistry Today. 2010 Jun;29(6):53-4, 56, 58-60
Zaremba M, Górska R, Suwalski P, et al. "Evaluation of the incidence of periodontitis-associated bacteria in the atherosclerotic plaque of coronary blood vessels." J Periodontol. 2007;78:322-327.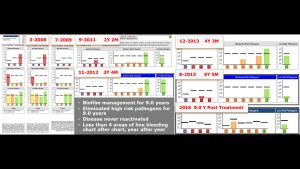 For more information on how to become an OralDNA Provider – scan HERE: 


Latest posts by Doug Thompson DDS
(see all)