Bulletproof Hygiene is the long-anticipated dental hygiene component of Bulletproof Dental Practice LLC, a dental coaching and partnership organization founded by Craig Spodak, DMD of the Spodak Dental Group, and Peter Boulden, DMD of Atlanta Dental Spa. Since 2018, their respective hygiene team leads, Brittany Simon, CRDH, BASDH and Charissa Wood, RDH, have integrated their aligned passions for the profession of dental hygiene and have compiled the best of their extensive knowledge and unique experience as practice leaders, educators, and clinical practitioners to fulfill the Bulletproof Hygiene mission.
The vision and mission of Bulletproof Hygiene are to help hygienists form a strong foundation based on ethics, evidence-based decision making, gold-standard practices with perpetual growth and development via continuing education. Enrolling patients is just the beginning, and watching patients develop into more equipped, educated, and autonomous partners in their own health journeys is what keeps them excited to move forward.
As hygiene leaders at globally influential practices with incredibly diverse designs, they know firsthand about the struggles hygienists and practice owners face individually and collectively. Therefore, Brittany and Charissa insist on finding ways to overcome obstacles and break down barriers to consistently raise the hygiene bar. Their combined 34 years of clinical experience have inspired them to devise practical and effective ways to influence others to overcome self-defeating thoughts and behaviors to get out of their own way and start practicing to the best of their ability for years to come.
Like many others in their industry, Brittany and Charissa have faced many hard days, burnout, emotional, physical, and mental challenges along this road. But they firmly believe that by coming alongside one another, they can cohesively flip the self-limiting adage: "we've always done it this way" to the much more useful approach: "how can we make this better?"
In their book: Bulletproof Hygiene: The Guide for Finding Fulfillment Through Purposeful, Profitable Hygiene, they advocate for self-care and deep-seated fulfillment for dental hygienists and insist that sustainably profitable outcomes must be rooted in ethical patient care. In their podcast and at annual Summit events, they champion challenging discussions, such as how to improve doctor-hygienist relationships, how to onboard new technology such OralDNA® labs salivary diagnostics, products, and patient care verbiage in any practice, and how to guide our patients to fully accept the treatment they so desperately need!
Today, we're so thankful to have access to copious amounts of valid and reliable peer-reviewed research that solidifies the now-blatantly obvious- oral-systemic link. Details of how different diseases in the mouth and body are intertwined, causative and correlated, are astounding and the list grows exponentially every year. We pride ourselves on practicing whole-health dental hygiene, using the latest available screening and diagnostics tools, which is why we are proud partners of OralDNA®!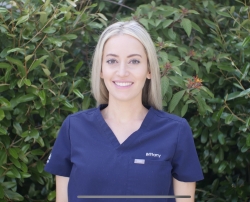 Latest posts by Brittany Simon CRDH BASDH
(see all)