Dr. McGlennen: You have been using our testing services for over 13 years. Do you have a different approach today than your approach 10+ years ago?
Caleb Robinson DDS: Without a doubt. In retrospect, our treatment from many years ago really seems like a "shot in the dark" against disease. We originally implemented salivary diagnostics as a helpful guide prior to treatment, to help us tailor the treatment to each patient's specific case. Over the years we have progressed even further – now utilizing the model of testing, treating, and then re-testing to confirm an acceptable endpoint for treatment, as well as ongoing testing for periodontal maintenance patients to monitor for any relapse.
Dr. McGlennen: When considering what patients to test, what criteria does a patient need to have? What are the top two things to consider when you select a patient for testing?
Caleb Robinson DDS: Obviously any current clinical signs of disease that a patient may be exhibiting would indicate the need for testing. The second factor to consider, which is just as important – if not even more important – is that patient's family or hereditary risk factors for certain systemic diseases. Having a parent or sibling with a history of cardiovascular disease (such as heart attack or stroke) or diabetes would be a patient I would recommend testing for.
Dr. McGlennen: What are the biggest benefits to using oral diagnostics?
Caleb Robinson DDS: Undoubtedly the greatest benefit is being able to personalize the treatment for each patient. Knowing exactly which species of bacteria we are battling against – as well as what level of that bacteria is present – allows us to choose appropriate treatment modalities in the office or recommend at-home products that can target those specific bacteria.
Dr. McGlennen: What is your favorite part of the MyPerioPath® results? Why?
Caleb Robinson DDS: My favorite part of the MyPerioPath® results is getting to see reduction in pathogenic bacterial load. It is incredibly helpful for the entire team involved with the treatment of that patient to be able to use that data to help guide the ongoing care of that patient and serves as a great tool for motivating the patient as well.
Dr. McGlennen: How do your patients respond to this technology? What is their #1 question?
Caleb Robinson DDS: Patients have responded surprisingly well to this technology over the past decade. Their number one question is most certainly "I never heard about this before – why don't all offices do this testing?!" I have found that some patients who may have had some skepticisms early on, have been more accepting of the recommended treatment when they have been able to see these objective test results.
Dr. McGlennen: What is your biggest challenge? How do you overcome that obstacle?
Caleb Robinson DDS: Many patients still ask, "Does my insurance cover this test?" – which has certainly been a challenge over the years. I must admit that I am still surprised, however, at the high level of acceptance we have been able to achieve when a proper explanation is given. By explaining to a patient that this test allows us to develop a plan that is specific to their exact situation, which will get them the best result, patients ultimately recognize the value of the testing to protect the investment they are making in their entire course of treatment.
Dr. McGlennen: If a new OralDNA® provider were to ask you for advice, what would be your best tip?
Caleb Robinson DDS: Don't let the hurdles involved from a practice management standpoint keep you from implementing a testing protocol for your office. Never underestimate your patients' desire to have the absolute best treatment outcomes possible.
Dr. McGlennen: Where do you see oral diagnostics in 3-5 years? 10 years? What would be the impact on your practice/patients?
Caleb Robinson DDS: In the coming years I see oral diagnostics becoming far more mainstream. It is likely that more and more systemic diseases or conditions will be able to be tested for with oral diagnostics. Hopefully, this will lead to more coverage benefit by insurance companies, possibly realizing the financial benefit to prevention or early treatment. This would greatly impact our patients, as it could allow for earlier diagnosis and treatment of a whole host of systemic medical issues. Patients often visit the dental office with far greater frequency than their physician's office – allowing us to potentially become the "first responders" to warning signs in their systemic health.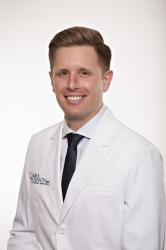 Latest posts by Caleb A. Robinson DDS MBA
(see all)