Do you want to live a longer, healthier life without chronic aches, pain, or chronic illness? Your oral cavity, gums, and dental status can provide an ample "mouthful of evidence" of your health status. Your physician most likely overlooked the dental-oral connection to your health. Medical doctors rely on dentists to care for your teeth, and common procedures can lead to making your health worse over time.
Hidden dental problems may be as bad as or worse for your health than obesity, hypertension, and diabetes, yet medical professionals are blindsided by dental problems as a preexisting condition, source of inflammation, and chronic disease. Modern dentistry may create bigger medical problems with its current mechanical model of dentistry focused on function and cosmetics. The future of dentistry will understand and embrace Energy Medicine as well as dental and oral DNA analysis, a part of holistic, integrative biological medicine. Acupuncture meridians are an integral part of energy, the basic language of nature; Energy Medicine is essential to understanding health and disease.
The Dental Meridians represent the upper lymphatic system including throat, tonsils, sinus, and oral cavity. As an example, a severe asthma patient who did not respond to standard and alternative care responded to extraction of a root canalled tooth (which had a normal dental X-ray). That tooth corresponded to the lung on the Tooth-Organ Meridian Chart. For more information, see my book, AcciDental Blow Up in Medicine. Acupuncture Meridian Assessment (AMA) can translate the medical history, physiology, and biochemistry of individual patients to a frequency (think musical) scale based on meridians: 5,000-year-old technology. It can be paired with new DNA diagnostics to better assess disease and restore health.
See the chart above to view the multiple factors contributing to Lyme, Post-Lyme, Chronic Disease, and Cancer. Unless these multiple factors are assessed in the oral cavity – not only in the environment, and not only in the rest of the body typically examined by physicians – the hidden causes of many illnesses will remain overlooked, undetected, and untreated.
I will give a one-day workshop on Acupuncture Meridian Assessment (AMA) to Detect Hidden Dental Problems at the 16th International Insulin Potentiation Therapy (IPT) Conference in Mexico City on February 15-19th, 2023. The conference theme is Stories of Cancer Survivorship, with lectures by international physicians. There will also be a workshop on new uses of IPT by Donato Perez Garcia, MD himself, the great-grandson of the inventor of Insulin Potentiation Therapy, which helps medications enter cells more quickly, enabling lower-dose treatments to be effective.
There are longer articles on my website on dental-medical interconnections, and case studies using Acupuncture Meridian Assessment (AMA) to help patients with a wide range of chronic illnesses. It takes time to learn and practice AMA, connect the dots, and prioritize and treat in the proper sequence. Dental and oral DNA tests give additional information to help with diagnosis and treatment.
When a patient does not respond to standard medical care, it is a time to think outside the box. Consider dental, oral, parasites, and fungal infections. Medical Acupuncture and oral DNA analysis will guide you beyond X-rays or CBCT scans, and lead to better patient outcomes.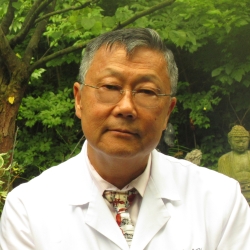 Latest posts by Simon Yu MD
(see all)