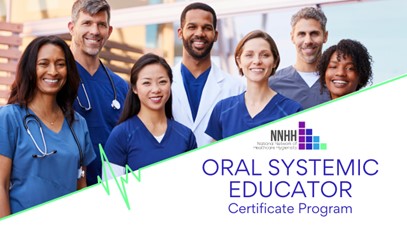 Registered Dental Hygienists have more career paths available to them than ever before. However, the biggest impact an RDH can have on overall health is still untapped! Large and small healthcare systems need our expertise.
Hospital administrators around the world have oral health integration on their strategic plans, but insurance reimbursement, coding, governance, and EHR differences have made integration with the dental field extra challenging. On top of that, general dentists are already overloaded trying to keep up with emerging specialties that even small towns expect such as sleep medicine, implants, and orthodontics. Trying to keep up with every area of medicine, to collaborate with healthcare providers outside of their office, or even harder, to be part of grand rounds off-site to contribute, just isn't realistic for dentists.
So, what is the answer to this problem? At the National Network of Healthcare Hygienists (NNHH), we believe the answer is to utilize hygienists as the bridge between the two worlds. If we send just 2-5% of the RDH workforce into medical systems to handle oral-systemic education of the providers and patients, set up and manage referrals to dental offices, and follow up to ensure treatment was completed, we will not just improve access to care and health equity, but also bi-directional communication and referrals between local care providers.
In our annual survey, 94.6% of RDH respondents said "specializing in an area of medicine like RNs do" is attractive to them. They are already taking far more CE than required, and scouring the internet for information they are passionate about to try and stay up to date.
Our students appreciate a certificate program that offers them a deeper understanding of a specific topic, evaluates their learning by comparing it against a benchmark, and helps them implement what they just learned in a meaningful way. Receiving a certificate of completion for such a comprehensive program is a milestone that increases confidence, advances careers, and distinguishes one among their peers.
Our foundational certificate program, Oral Systemic Educator, has already helped many hygienists create and secure integrated roles, and many of them are now moving into management roles, adding additional Healthcare Hygienists to their team, as patient and provider satisfaction soars. Others are using the latest clinical research to help distinguish themselves and their office as a functional/oral medicine focused facility that looks at the whole person instead of just their mouth.
This year we added an Oncology Certificate Program for RDHs, a new online networking community, and for the summer, we are composing a program around salivary diagnostics. Medical providers communicate with each other via lab results, so lab testing gives an RDH something to share that a healthcare provider can wrap their head around. It's a wonderful way to introduce yourself to local primary care providers and increase the amount of bi-directional referrals and phone consultations you are a part of.
Dental hygiene is expanding. How are you distinguishing yourself this year?

Latest posts by Jamie Dooley BIS CLC
(see all)