The American Academy for Oral Systemic Health began in 2010 with a simple mission: Connecting medicine and dentistry to save lives. Since the beginning, professionals from all aspects of health care have been sharing their expertise to achieve the mission of saving lives. If you are reading this blog, you may have previously attended an AAOSH event or at minimum you have thought about attending. But, new breakthroughs are constantly being made in this field. Here's a taste of what you will experience if you attend the 2023 AAOSH Hot Topics.
Dr. Ronald McGlennen will share his expertise with research in potential drug therapies and new diagnostics. "Infection by P. gingivalis of the periodontium can, in some persons lead to the systemic colonization in remote organs of the body including the brain, where over long periods of time assert the effect locally to degrade neurons and supportive tissue and leading to clinical signs identical to Alzheimer's disease.  Research into the pathophysiology of systemic infection involving P. gingivalis have subsequently led to the identification of novel compounds now being evaluated as potential drug therapies for AD."
Barbara Tritz RDH will share her expertise on patient care without the use of fluoride. "Our answer has been 'more fluoride.' Is fluoride really the answer? Or is it actually contributing to and creating even more problems? What about the dark side of fluoride? We have many other tools in our tooth decay fighting tool belt that work better. This course will review the other side and maybe you too will be ready to leave the 'Land of Fluoride.'"
Dr. Mark Cannon DDS will share his expertise on the microbiome conundrum with emphasis on diet to help establish eubiosis. "The catch is that to achieve proper health you need to restore the good bacteria, but the diet is lacking, and you then need to have the good bacteria, to process the diet. But modern food processing removes the beneficial bacteria, by removing all bacteria, so what will be the source of the good bacteria?…Hygiene may not be the best word to use, as we simply want to return to our natural state of health. Hygiene implies cleansing, removing the unwanted, rather than restoring the balance, to create the eubiosis."
If you ask anyone who has attended an AAOSH event, they would all agree there is never a disappointment. Be part of the science, then begin being part of the solution. Register today! The 2023 AAOSH Hot Topics is being held on February 23, 2023 from 8:30-4:45 at the Chicago Hyatt Regency. It may be cold outside in Chicago, but the Topics will keep you Hot!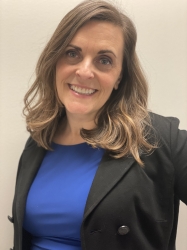 Latest posts by Diane Larson RDH, BSDH
(see all)