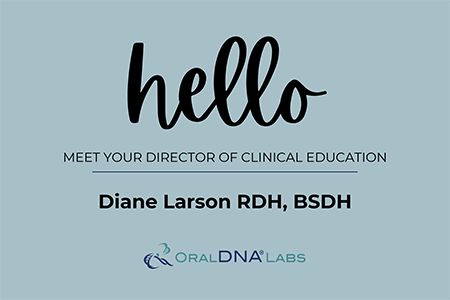 With our network of OralDNA® providers growing every day, we wanted to take the opportunity to introduce our Director of Clinical Education, Diane Larson, RDH, BSDH to our new providers. Diane is an essential asset to our team and has a wealth of knowledge to share. She has over 20 years of dental experience and is a member of the ADHA and MnDHA. Although she is no longer providing patient care chair side, her passion is helping clinicians provide a higher quality of care for their patients by assisting in developing an evidence-based treatment plan. Her total health approach is complimented by her nutritional knowledge.
Diane is alongside you to offer training webinars to the entire team, help facilitate the incorporation of salivary testing into existing protocols, and walk through patient conversations regarding salivary diagnostics. If you are interested in scheduling a webinar training with Diane, whether you are looking to get started, hold a refresher for new team members, or train on a specific test you may not be familiar with, please click here to view Diane's calendar and select a date and time that works best for you.
Diane is an extension of every OralDNA provider's team and is a great resource for any clinical questions you may have. Please feel free to reach out directly to start the conversation today!

For additional support, please contact our Client Success Team at 855-ORALDNA (672-5362) or support@oraldna.com.
We are here to help!

Latest posts by Amanda Seaton, B.S.
(see all)